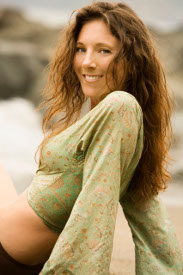 photo taken by Frank Galione Photography
Tracy Notaro R.N., BSN
is a 1996 graduate of Salisbury State University (part of the University of Maryland system). From a young age, Tracy was exposed to photography, as well as travel, and found a natural union of the two. At this time in her life, Tracy also discovered that the ability to help people was an integral part of who she was. During her many years as a practicing R.N., Tracy's role as a "nurse healer" began to evolve. She joined the American Holistic Nurse's Association and augmented her Bachelor's of Science in Nursing degree by continuing her studies. In the spring of 2004, through the Colorado Center for Healing Touch, Tracy became a Certified Healing Touch Practitioner.
Throughout her adult years, Tracy has continued to travel, seeking out parts of the world that many of us do not see. When venturing to these remote areas, Tracy's hope has been to understand and convey the medical needs of the native people, and to bring their stories back to developed nations. This has been accomplished through her photography.
Tracy also has a deep love for music and dance, and throughout her travels at home and abroad, has been a part of the musical experiences of many artists. Tracy began capturing musicians on film, realizing that she could combine her passion for photography, and her ability to predict where the music is going to go. The result has been a beautiful connection.
In addition to her Photography, Nursing and Healing Touch education, Tracy is also trained in Psychology (Counseling), Communications, Nutrition, Massage Therapy, Reflexology, Hot Stone Therapy, Yoga, Aromatherapy, and the use of herbs & essential oils in most of these practices. Many different cultures and healers from all over the world have taught these treatment modalities. Tracy has successfully integrated her education in Western Medicine, with that of other cultures, to create a holistic approach to her care. She has worked at a group home for troubled teens for the past five years, as well as in a county clinic in the inner city of Richmond, with the mentally ill homeless. To learn more about Tracy's photography, and/or to experience this rapidly expanding field of complementary medicine, please contact her through the link provided. Tracy lives in the San Francisco Bay Area. She loves to surf, snowboard, and hike.